MEDICAL SERVICES
Our Chief Medical Officer (Dr. Susan Rossmann) and Medical Director (Dr. Marsha Bertholf) are available to serve as part of the patient care team by consulting with physicians and other health-care providers to facilitate appropriate patient care. They have a broad range of experience in transfusion medicine and can offer advice and support regarding blood products and therapies.
Our physicians and Reference Laboratory staff are available for consultation when patients experience unusual or less than desired responses to transfusion therapy. This team is also experienced in a variety of transfusion procedures that can help to lessen disease symptoms.
Our spectrum of activity and expertise allows us to provide guidance in a broad range of transfusion-related problems and issues including:
Interpretation of immunohematology tests and recommendations regarding appropriate transfusion therapy
Management and evaluation of neonatal alloimmune thrombocytopenia (NAT), including collection of maternal platelets
Evaluation and management of transfusion complications such as transfusion related acute lung injury (TRALI), delayed hemolytic reactions, allergic reactions and transfusion-transmitted diseases.
Transfusion Therapy/Component Selection
Blood Administration - Routine and Complex
Participate in Transfusion Review Committee Evaluation
To learn more or to consult with our Medical Director, please call 713-791-6656.
Dr. Susan Rossmann

Dr. Susan Rossmann is the first Chief Medical Officer of The Blood Center. She joined the staff in September 2001 from her position as director of the blood bank and director of the microbiology and serology departments at Texas Children's Hospital.
Dr. Rossmann completed her undergraduate studies at Mount Holyoke College and received an MA and Ph.D. in anthropology from the University of Michigan. In 1989, she received her M.D. from Baylor College of Medicine, where she also completed her residency in anatomic and clinical pathology. She is board certified in both anatomic and clinical pathology and certified in blood banking/transfusion medicine by the American Board of Pathology.
Dr. Rossmann was actively involved with The Blood Center, even before joining the executive staff. She held memberships on the technical advisory and the education and research committees. Rossmann is also an inspector with the College of American Pathologists' laboratory accreditation committee and a blood bank standards assessor with the American Association of Blood Banks.
Dr. Marsha Bertholf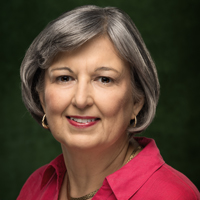 Dr. Marsha F. Bertholf earned her undergraduate degree at the University of North Carolina Greensboro and obtained her MT(ASCP). She earned her MD from the University of North Carolina and was a resident in Anatomic and Clinical Pathology at the University of Virginia, where she also completed a fellowship in Blood Banking and Transfusion Medicine.

She is board certified in Anatomic and Clinical Pathology and Blood Banking and Transfusion Medicine. She joined the University of Florida Department of Pathology in 1989. Dr. Bertholf was the Medical Director at The Blood Alliance in Jacksonville, Fla. (now part of OneBlood) from 1994 until she joined Gulf Coast Regional Blood Center in 2017.

Her experience includes donor collections, therapeutic and donor apheresis, Immunohematology reference cases and hospital patient blood management.